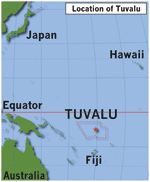 Tuvalu is located on the equator, 2 hours flight from the republic of Fiji islands. Comprising of 9 islands with a total land area of just 26 km2, it is surrounded by some of the most picturesque emerald green waters found in the world. Nearly 10,000 Polynesians are living on these islands. The origin of the Tuvaluan people is believed to be of Samoan descent or from a smaller island tribe that voyaged across the Pacific Ocean in ancient times.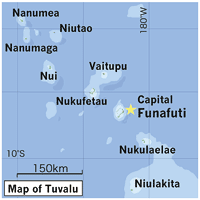 The rustle of the wind flapping coconut leaves and the gentle sound of waves lapping toward the white sand beaches. Following the scent of the fires fueled by coconut shells, one can hear the laughter of the Tuvaluan peopleas they talk inside their homes. Visitors are greeted with gentle smiles and open hearts as the Tuvaluan often extend invitations into their homes to join them in a meal. Some of the things Industrialized country people may have lost in the past still remain in Tuvalu.
Living in harmony with the nature that surrounds them, they use less and need less than those from industrialized nations. To them, family is the most important thing in their lives. These things are just a few of the enchanting features of Tuvalu.