Let's participate in activities to prevent climate change by connecting Tuvalu with the world!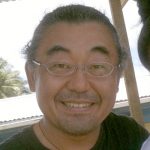 I am Shuuichi Endou, who is hosting this project and reader of NGO Tuvalu Overview.
This project was initiated with the aim of accelerating the resolution of the climate change problem by delivering a Tuvalu people's beautiful smile and there voices about climate change to the world.
Film cameras were still mainstream when I started this project. Filming with film on the southern island of hot and humidity requires advanced technology and management fee. However, today, we can easily make use of the high image quality of digital camera. So, I think that many people can participate in this project.
Do you become a party to this project when you like photographs and luckily get a chance to go to Tuvalu? Anyone can participate in the project if you agree with the simple conditions listed below.
Fill out the application form and send it with documents that prove your identity.
Support US300$ as a participation fee per person. For this WEB SITE continuation.
Interviews and photo shoots follow the way we specify. (For example, Don't use flash and reflector)
Interview using project specific question list.
Obtain the sign of abandonment of copyright from the interviewee.
After shooting and interviewing, I will issue an account to post this your data to this WEB SITE.
The copyright of your photos and interview data belongs to you, but please give the usage right to Tuvalu overview.
If you wish to participate in the project please send a message from the CONTACT menu. We will send you the project kit after confirming your identity and the entry fee has arrived.
We are planning to hold photo exhibitions and publish photo collections using all photos and interview data.